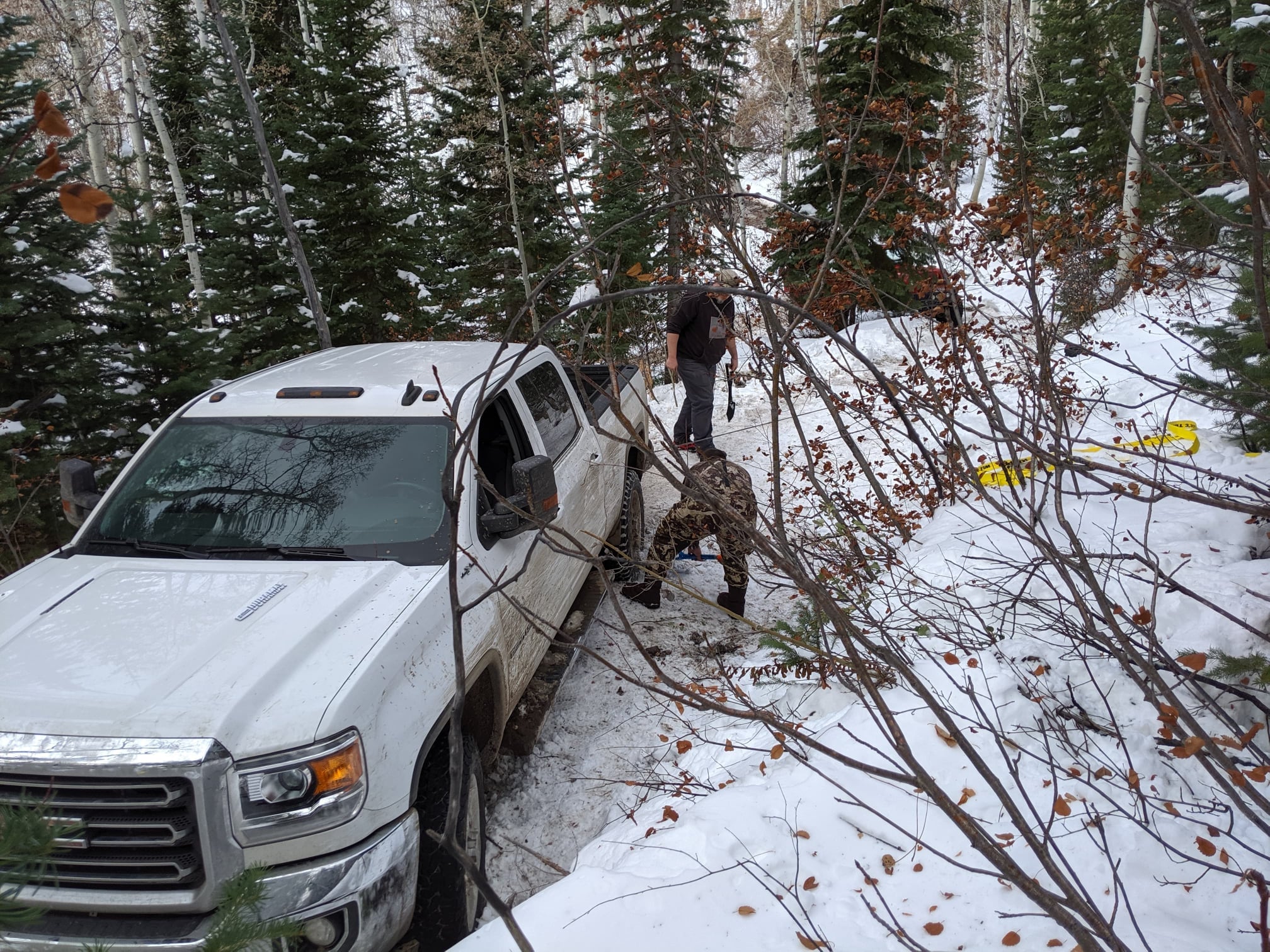 November 3rd, 2019, a team from Colorado 4×4 Rescue and Recovery assisted a stuck hunter in the Steamboat Springs area that had slid off a forest road.
What happened: The RP had a choice to make, go low and risk getting stuck in a deep mud hole (or at least risk a lot of vehicle damage) or go up and over to bypass it. They had rear chains and thought they could make it up the hill without issue.
As we know….snow and ice can be very humbling even to the best rig. They slid passenger side off the trail. They were able to self recover the front, but the way the truck was situated off the road, the rear was not possible without help. It was stabilized with a strap and come along to prevent it from sliding further off the road.
They contacted the Sheriff's office and 3 tow companies. None could get to them with the amount of ice on the road. The tow company drove them into town where they got a hotel for the night, and RP contacted Colorado 4×4 Rescue and Recovery.

A team was formed for a next day op.
The recovery itself was pretty straight forward: Front tether (to prevent it from sliding backwards), and a Snatch block to a tree saver for a rear side pull. No valid rear anchor points on the truck so we used the hitch (don't like putting a bunch of side pressure on hitch receivers, but other options were limited).
During winching, we had the RP in 2WD and lightly press the gas to spin the rear wheels in an attempt to prevent the tire from folding over or popping the bead. The pull worked as intended and he was quickly back on the trail.
Once back on the trail we navigated him back down the hill to the lower route. We used a pick axe to improve the departure angle of the deep mud and ice hole. There was a lot of ice build up that we knocked down.
The ride back to pavement was a downhill sheet of ice, but we made it down without further challenge or incident.
With team members responding from as far away as Frederick Colorado, another from the Avon area, and a 3rd assisted on the way back from a hunting trip near Craig, the round trip on this operation was nearly 11 hours, and just short of 400 miles for the furthest responding member.
Notable times for this incident:
earliest departing member 0700
arrived on scene 1151
operation complete and on pavement 1345
last member back home 1800