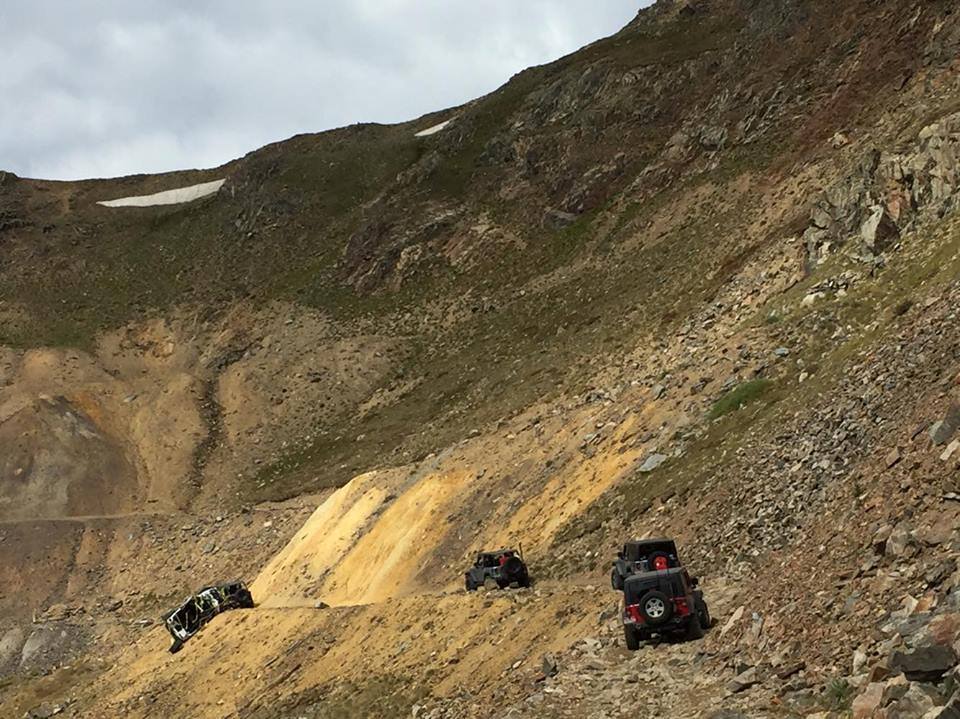 Deep in the Arapaho National Forest is Radical Hill. It is a daunting trail featuring a couple challenging obstacles but its defining characteristic is the shelf road. This trail has one stretch of shelf that rivals Black Bear in Telluride. On August 22nd, Ken McCoy took the ride of his life off that shelf road. Ken and his dog walked away slowly, hurting, but alive. Ken reported broken ribs and a laceration on his head. Two men on ATVs transported him out of the back country and to medical attention. The rest was handled by Colorado 4×4 Rescue and Recovery.
On the last day of August, eight volunteers of Colorado 4×4 Rescue and Recovery responded to the crash site. Most of these volunteers have gone through the organization's recovery skills class and are veterans of approximately 100 combined recoveries with the organization. Many are also recent graduates of Wilderness First Aid.
These members coordinated their experience, training and resources, as well as much of their combined recovery equipment, for a safe and successful recovery. The vehicle's recovery at 12,300 feet was no small effort after the vehicle descended Radical Hill rapidly for approximately 430 feet. The vehicle's condition was the greatest challenge. The second greatest challenge was the elevation and the physiological resources it takes to work hard for 10 hours at elevation while avoiding altitude sickness.
With spectators who saw the response team come through town looking on, the vehicle was first put on its belly, then back on the shelf road using four winches and a safety line. The vehicle was then dragged to a location it could be worked on safely. With the goal of making the vehicle roll, the tires were remounted and re-beaded and the rear suspension was rebuilt as much as it could be. Much thanks to Bullhide 4×4 in Fort Collins and some of our dedicated members for donating parts. Eventually, a volunteer steered the flattened Jeep as it was towed approximately 5 miles and down 2,000 feet of elevation by one vehicle as two others acted as its brakes.
With volunteers leaving home as early as 5am and returning home in a driving rain as late as midnight, the day was a long one. Colorado 4×4 Rescue and Recovery is an all volunteer organization that functions almost entirely on donations as a non-profit. The dedication of the volunteers and paid members is impressive and they are part of a greater community that keeps our back country accessible and beautiful. Radical Hill Trail is clear, the debris field was removed and USFS and Sheriff were notified the issue has been resolved.
VIDEO https://www.youtube.com/watch?v=NTe5WXCCw-c&feature=youtu.be
NEWS PAPER ARTICLE http://www.vaildaily.com/…/volunteer-four-wheel-rescue-cre…/
9 NEWS STORY http://www.9news.com/…/nonprofit-rescue-helps-wi…/73-2719826