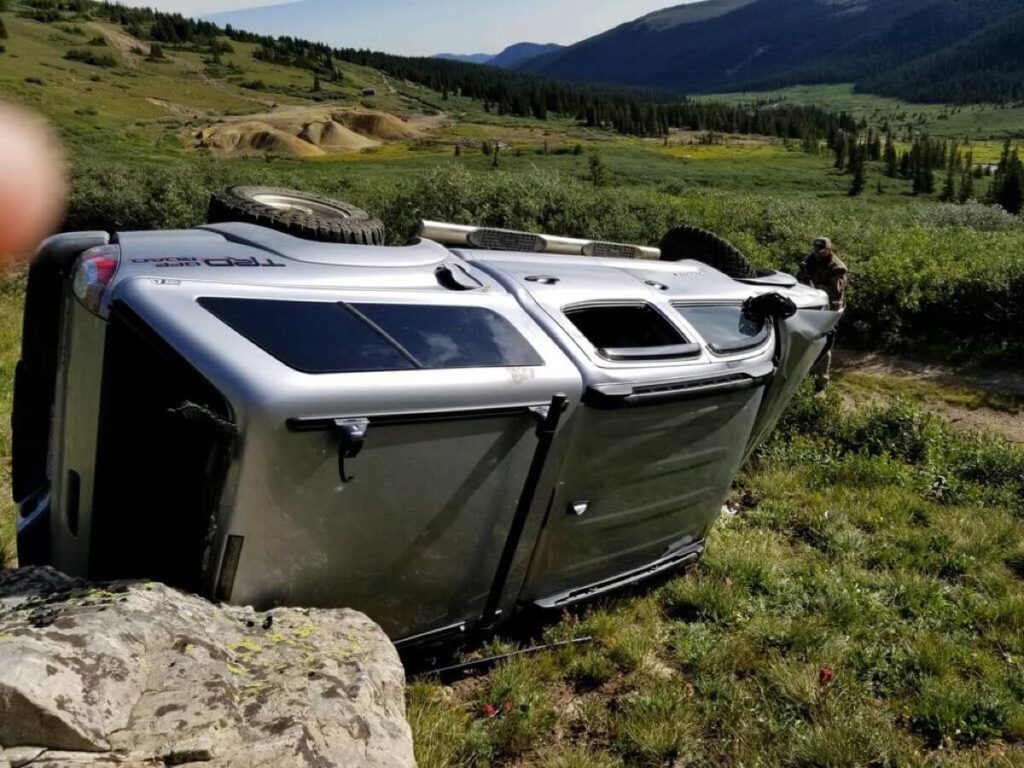 We have been busy with recoveries this week as many high-altitude trails have been cleared and are now accessible. One recovery stood out from the rest due to the damage the vehicle sustained from the rollover.
This Toyota Tacoma was parked as the owners walked ahead to explore a rocky section of the trail around the Waldorf Mine. Somehow, the Tacoma came out of park and started freewheeling with no occupants about 150 feet down the mountainside! Amazingly, it came to rest by the trail on its side after rolling a few times. The owner and some friends took action and rolled the Tacoma back on its wheels but the damage it sustained rendered it undrivable.
We assembled a team and responded on Sunday to help bring the damaged Tacoma to the trail head assuming it wouldn't run and need towed out. We were quietly optimistic that the engine would start after sitting upright for some time allowing the fluids to drain. It did start, but the sheet metal damage was extreme. After some discussion, the team used a Hi-Lift Jack to move interfering sheet metal, adjust the radiator bracket and replace the blown tire. They followed up with some testing to make sure vital components still worked. To our disbelief, the Tacoma followed our team off the trail under its own power.
The Hi-Lift Jack is one of the most under-utilized tools on the trail. This recovery wouldn't have been easy without the training and equipment our team has. We were able to safely make quick adjustments to this Tacoma to get it back on the trail so the owner could get it towed home.
View and comment on Facebook: https://www.facebook.com/CO4x4RnR/posts/2201863786779661