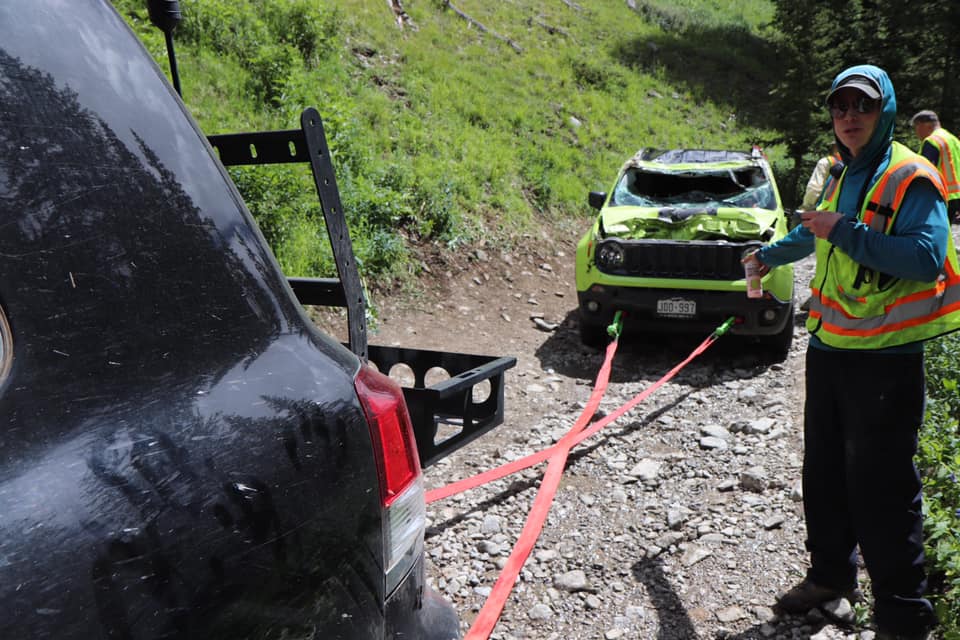 Fresh off a TJ rollover Sunday, Colorado 4×4 Rescue & Recovery received a call Tuesday requesting assistance on Mt Antero. Word of the rolled Jeep Renegade was spreading fast and getting the vehicle off the trail quickly was a top priority for all parties involved.
We assembled a strong team of 6 members and hit the trail head by 9am outside of Buena Vista. After airing down and a brief meeting with the Forest Service, the team was on location by 10am. Typical with any rollover, careful preparation and planning was taken into consideration to keep the trail and environment in its pristine condition as well keeping everyone involved safe.
Utilizing three winched vehicles, multiple winch extension lines, screw pin bow shackles, soft shackles, and pulley blocks, the team was able to safely right the Renegade. After giving the RP a few minutes to reflect on her experience, the team wasted no time helping her collect her belongings and get the Renegade rigged for a dead pull. Utilizing two identical tree straps, members cross rigged the vehicle to ensure proper load distribution and optimal steering while being dragged out. Adding a brake vehicle via kinetic strap, the team took careful consideration navigating the Renegade making sure the it tracked correctly down the narrow, rocky, wet, shelf road. After an hour and half, everyone was successfully off trail.
We would like to give a huge shout out to the Forest Service- we appreciate your help with trail traffic, as well as our selfless members who took time off during the week to aid our RP.