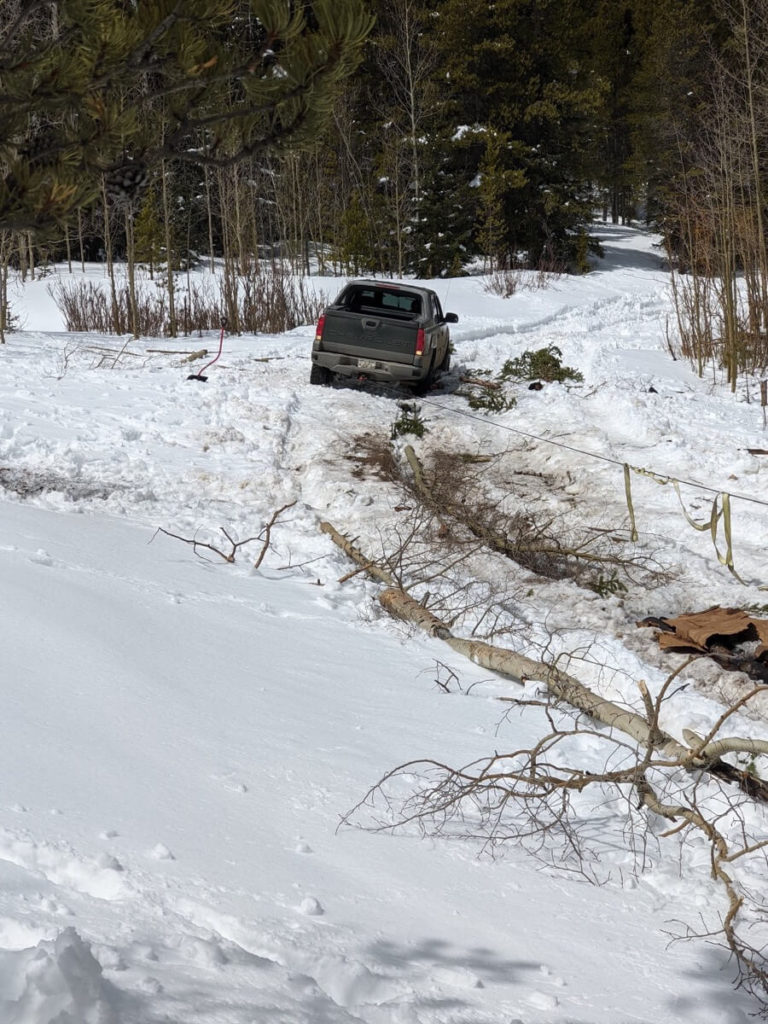 At 8:30 on Sunday, April 19th, 2020, Colorado 4×4 Rescue and Recovery received a call from the Gilpin County Sheriff's Office requesting our assistance in recovering a Chevy Avalanche with 2 occupants and a dog that were stuck overnight on Pisgah Road.
Some of the back story on this operation:
Saturday afternoon, those parties got stuck and contacted another friend to come assist in getting them out. Who unfortunately also had got stuck on the road. That party had sent a text message to a family member saying to call the sheriff's department after being out all night as well stuck in a vehicle.
The responding deputy unfortunately also got stuck trying to get to the two other vehicles, also stuck in the deep snow. This was now stretching the SO's resources thin, and this is where we were activated.
Upon our team arriving on scene, a good sam was just getting ready to attempt winching a straight line pull, but that attempt was unsuccessful. CO 4×4 RNR team offered to help and it was accepted, rigging was changed up just a bit and an anchor vehicle was added to the equation, the RP vehicle tires were dug out (to lessen the mire), and the single line pull was then successful.
This scenario is exactly why the statewide stay at home is in place! The person's stuck un-necessarily put themselves at risk of exposure on the mountain overnight, burned critical resources of the sheriff's department getting their own deputy un-stuck while exposing them to possible infected members of the public, and put our responding members at risk of possible infection and use of PPE that could have better been suited for front line medical staff.
Remember, your actions affect potentially dozens of 1st responders willing to answer that call in a time of need. But that call won't even need to happen if you follow the rules like we all should be!
Colorado 4×4 Rescue and Recovery
We Recover the Rockies
View and comment on Facebook: https://www.facebook.com/CO4x4RnR/posts/2399906316975406