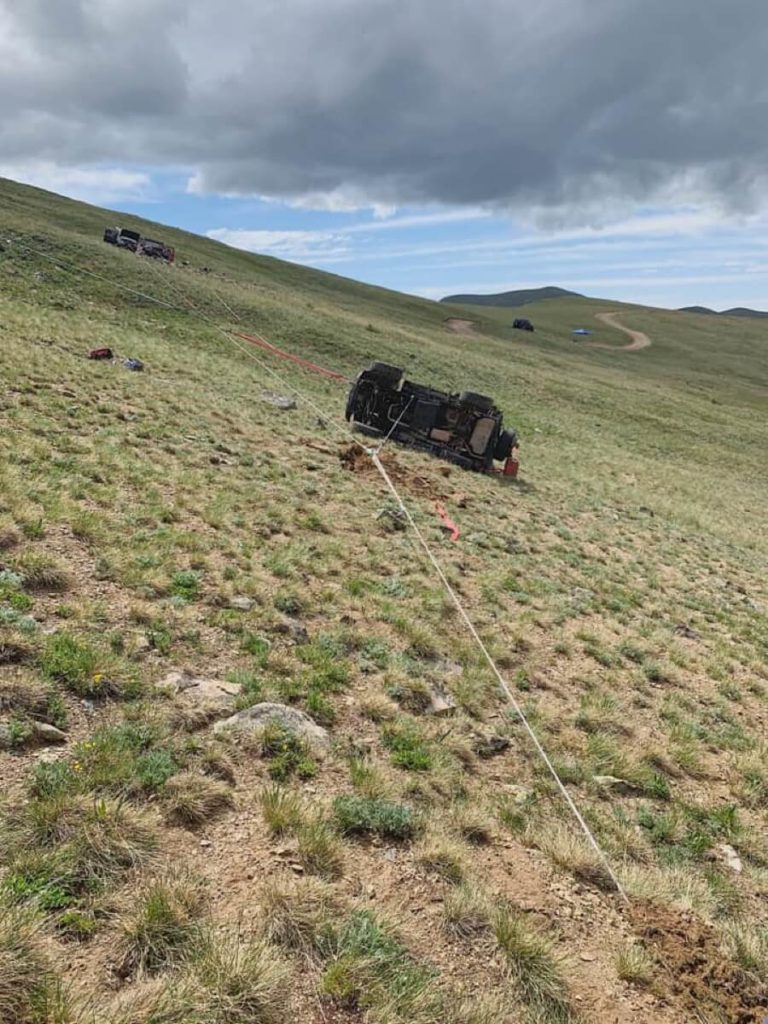 With all the snow melting in the high country, Colorado 4×4 Rescue & Recovery has seen an increase in call volume- this past weekend was no exception. Dispatch handled calls ranging from RPs lost/stuck on Colorado's highest mountain passes, to several shelf road recoveries, including a TJ rollover outside of Keystone.
In highlighting the TJ recovery, we'd like to thank our selfless volunteers for successfully removing the vehicle from the high country. Given the impending storm system, dispatch had the initial team of 6 departing Denver at 4am for an early start. This recovery proved especially difficult as the team utilized several hundred feet of winch extensions, a Pull Pal, and hours of laborious rigging to carefully right the TJ safely with minimal environmental impact.
Just as Team 1 was able to get the TJ back on all 4s on the trail, Team 2 arrived to help skillfully prepare the TJ for its return home. Teams 1 and 2 worked together seamlessly to reseat the bead on two of the tires, cleanup the affected area down hill, and set up the vehicles to dead tow the TJ safely down to the trailhead. With several CO4x4RnR members leading the way, one vehicle was assigned to pull the TJ (bridled) and two brake vehicles were daisy chained to each other to provide the safest braking practices while minimizing trail damage/impact. Teams 1 and 2 successfully moved the TJ back to the TH by 5pm.
Overall, special thanks to our dispatch team for keeping an eye on the weather, monitoring us throughout the arduous recovery, and dispatching Team 2 early enough to get out and help Team 1 push through to the finish. This was truly a combined effort from all facets of Colorado 4×4 Rescue & Recovery.
Lastly, we are thankful to report the RP walked away virtually unscathed.
View and comment on Facebook: https://www.facebook.com/CO4x4RnR/posts/2187358808230159