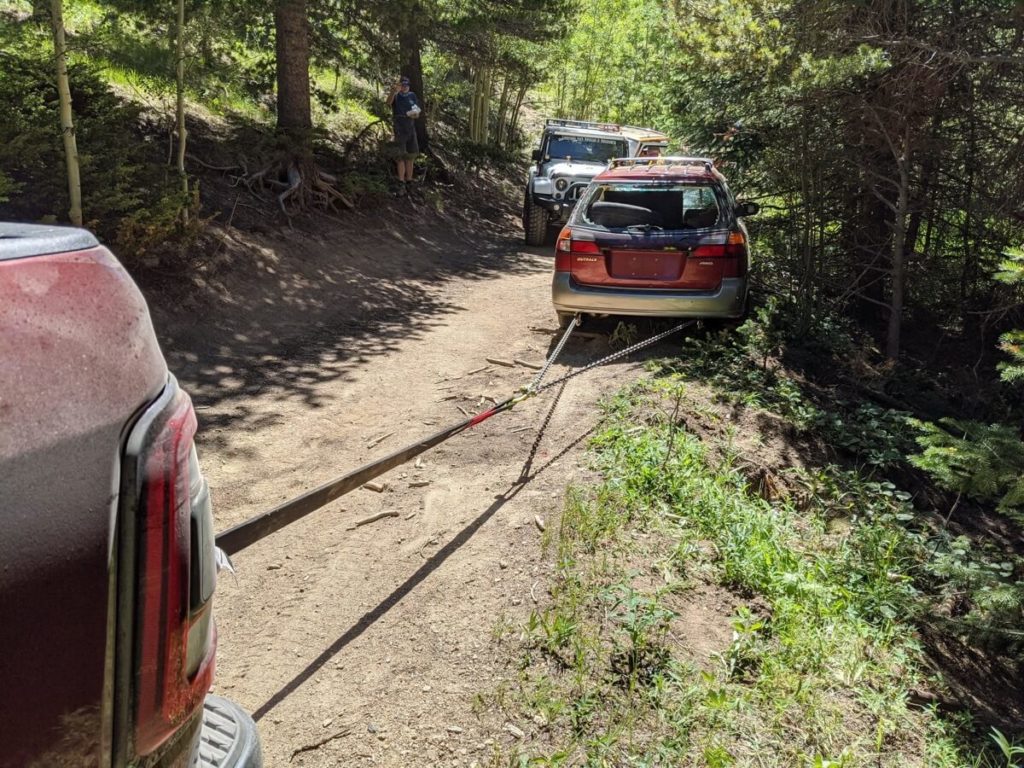 Saturday, July 11th, 2020, Colorado 4×4 Rescue and Recovery assisted the Sheriff's Depart and US Forest Service in removing an abandoned and vandalized Subaru from the Rainbow Lakes area north of Nederland. This vehicle sat all winter, and upon opening the roads in the area people took to smashing the windows, shooting at the car, and ripping apart the interior.
We appreciate the trust given to us to remove this vehicle from the forest, and the partnerships we have with our local law enforcement agencies and the US Forest service. We only had to pull this vehicle a half mile and were happy to assist getting this to where a tow truck could easily reach it!
After the 1st quarter mile we came to some sharp S curves and the rocky section of the trail where the log skid just couldn't hold on anymore. Having already closed the road for almost 2 1/2 hours to public use, we agreed to continue as-is (vs take an additional hour to fabricate a new log skid), get the car out, and return this road to public use.
As the team followed behind, trail damage was mitigated with shovels as much as possible, and all bits and pieces of straps, car parts, etc were policed and cleaned from the trail.
Colorado 4×4 Rescue and Recovery
We Recover the Rockies
View and comment on Facebook: https://www.facebook.com/CO4x4RnR/posts/2464531343846236