Mission Reports: Woodland Park, Nederland, Radical Hill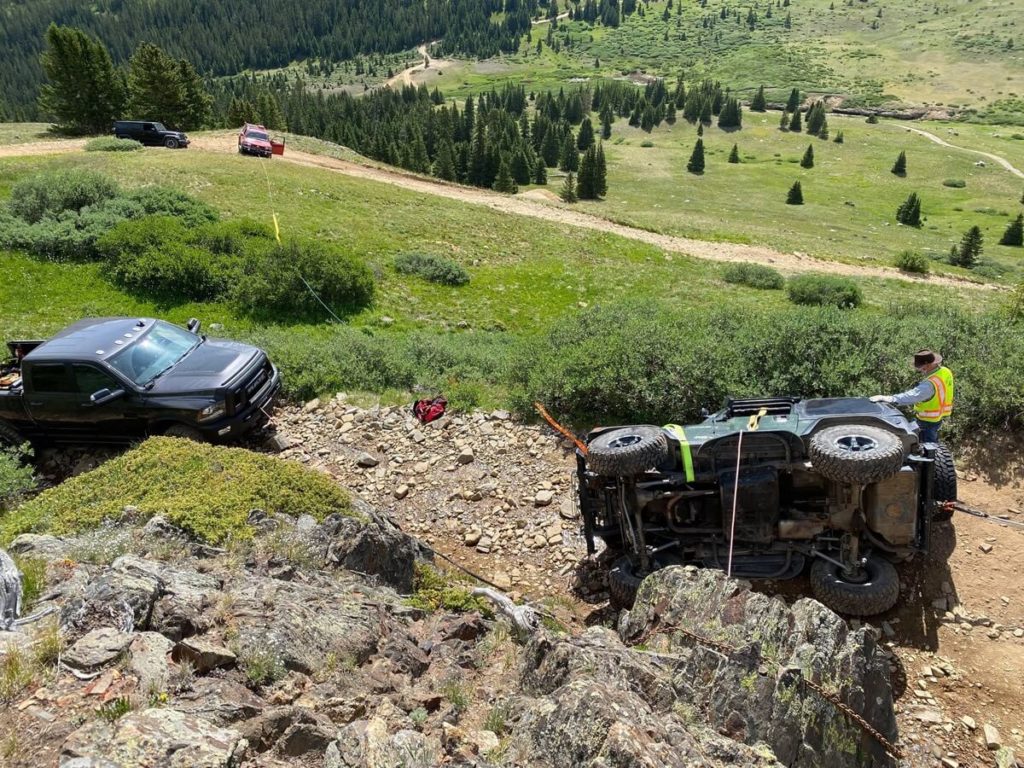 A busy weekend for Colorado 4×4 Rescue and Recovery!
It started off Saturday with an assist for the USFS to retrieve an abandoned F150 from about 300 feet down the side of a hill outside of Woodland Park, followed up by a relay for help near Nederland that was unable to be located (suspect they got out on their own).
Sunday began with getting a flopped TJ back on its wheels on the Radical Hill trail, and there is another incident wrapping up right now near Nederland to get a Nissan Pathfinder back on the trail!
On the early Sunday, July 19th 2020, recovery, a volunteer team from Colorado 4×4 Rescue and Recovery went to Radical Hill just outside of Montezuma, Colorado to get a TJ back on its wheels and cleared off the trail.
Since this operation was conducted above treeline, a heavy duty chain was used around the uphill rock to provide sufficient anchoring for a pulley redirect to the 1st winched vehicle. An anchor line was secured behind the jeep to prevent it from rolling downhill once on its wheels, and a 2nd winched vehicle was used off to the side as a damper to prevent it from slamming down on its wheels once past the 45 degree mark.
Another smooth recovery completed!
Colorado 4×4 Rescue and Recovery
We Recovery the Rockies
View and comment on Facebook: https://www.facebook.com/CO4x4RnR/posts/2470223593277011